Simplifying Kibana for Non-Technical Users: A Beginner's Guide
Kibana is an exceptional tool for technical users focused on log analysis and data visualization. But did you ever feel like Kibana is a little too overwhelming for your stakeholders and customers? If yes,  then you belong to a vast majority of users. Like you, many of our customers felt like the Kibana is too difficult to use for their non-technical users and asked us if it is possible to simplify its user experience.
Simplifying Kibana
The Skedler team has been working with the Elastic Stack for several years now, starting all the way back in v1.x.  Given our team's years of expertise, we wondered how can we help our customers? The problem with Kibana is that it is a swiss-army knife with too many options when all you need is a simple sharp penknife.   Is it possible to customize Kibana and make it a really effective penknife?
Today, we want to share with you some ideas on how Kibana can be customized and made simpler. If you are interested in learning more or need our help, drop us a note at [email protected] and we'll connect with you.  
Project Simpana (Simple Kibana) – Customized Kibana
To simplify Kibana, we focused on five areas of user experience:
Login

Navigation

Dashboard

Visualization

Reporting
Customized Login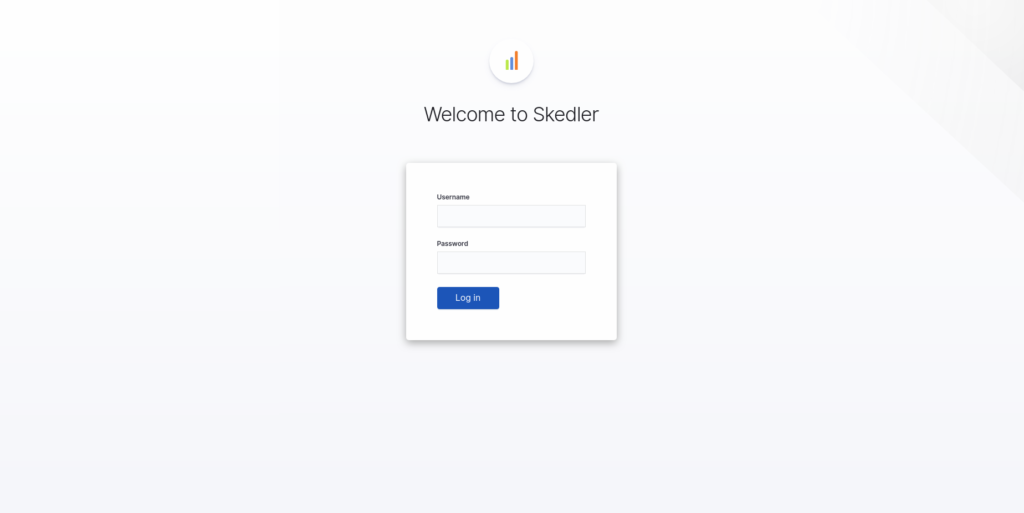 Kibana is secured with a security plugin. We customized the login page to keep it simple. In addition, we customized the logo, color schema and the look -n-feel in such a way that it doesn't even look like kibana anymore 😉
After login, instead of the standard Kibana home page, the users are automatically taken to the dashboard list since dashboards are the most frequently used. The look and feel of the dashboard list are clean. We used the same color theme as Skedler. In the sidebar, we removed the items that are not essential for a typical user.  
We strongly believe that the resulting user experience is clean, simple, and productive.
Simple Dashboard
In the dashboard page, instead of displaying too many buttons to the user, we grouped all the button inside the Actions drop list. Once again, this simplifies the user experience without losing any function.   
Adding New Visualization
In the above dashboard, you can see a new visualization in the bottom left. It is called Sankey visualization. It is a not available out-of-the-box in Kibana. One of our customers needed to visualize data connections from source to destination.   We added a Sankey visualization to the Kibana framework to visualize the data connections.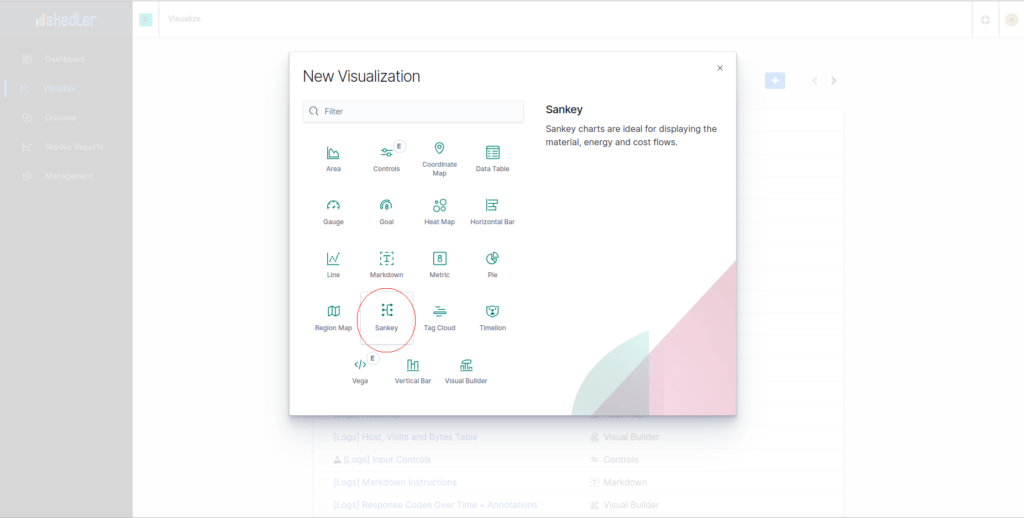 A little bit more about Sankey.  Sankey diagrams are a specific type of flow diagram, in which the width of the connectors is shown proportionally to the flow quantity.  Sankey diagram is a visualization used to depict a flow from one set of values to another. The things being connected are called nodes and the connections are called links.  Sankey diagrams are typically used to visualize data, energy, material or cost transfers between processes. Sankey diagrams put a visual emphasis on the major transfers or flow within a system. They are helpful in locating dominant contributions to an overall flow. Often, Sankey diagrams show conserved quantities within defined system boundaries.  
Kibana Reporting

The users needed to automate reporting within the Kibana UI so that they don't need to login to multiple screens.   Therefore, Reporting was a key requirement for auditing and compliance.  We added Skedler Reports plugin to Kibana. Users can easily create, schedule and generate reports from within Kibana.
Summary
Our goal was to make Kibana simple and easy to use for the non-technical users.  We achieved our objectives with the clean design, easy navigation, and simple dashboard layout. Finally, as an icing on the cake, we also simplified reporting with the Skedler reports.  
We are continuing to explore Kibana customization and adding new visualizations to Kibana. We invite you to share your feedback on this article and what new capabilities you'd like to see in the future. If you would like to learn more,  reach out to us at [email protected].