Expert Series: ​​Adapting to IT Evolution w/ Fran Souza from Nokia
In this Expert Series episode, we have the pleasure to talk to Francisco Souza, who has been working in the IT sector for more than 20 years. Just two years ago, he decided to take a big leap and move his career from traditional IT and became a cloud engineer. He currently works for Telco Projects at Nokia.
Discovering Francisco's Fascinating Career and Insights
Francisco, aka Fran, shared the challenges he faced during this transition, emphasizing his resistance to open-source systems like Linux. He admitted, "My biggest challenge was breaking the resistance that I had to use open-source systems like Linux. I never worked with it on my personal computer. When I joined my current job, one of the prerequisites was to have some knowledge of it, and I hadn't." This highlights that it's never too late to embrace change in the ever-evolving IT world.
Fran's turning point came when he realized he wanted to move away from Service Desk tasks. He recalled, "I was a little tired of working directly with Service Desk tasks when I heard about Cloud Computing with great intensity during the COVID pandemic and the huge demand for great opportunities in medium and large companies." It was then that he decided to start his studies and embrace the challenge.
Continuous Learning: Fran's Key to Success
Fran's success lies in his passion for learning. He mentioned, "I'm constantly taking free and paid courses and bootcamps, watching YouTube channels, reading technical blogs, creating my own technical blogs about what I have learned, performing many hands-on home labs, and joining Telegram communities." If you find yourself in a similar position to Fran or are interested in knowing some of the resources he has used to learn and improve, he shared a few, such as Kubecampus and KodeKloud, along with some YouTube channels such as Shubahm Londhe, Praveen Singampalli or Otabek Abdurakhmonov, among others.
The field of artificial intelligence has recently seen significant advancements. There's a constant question about whether AI will take jobs or replace them. Fran's perspective is, "AI is demanding the creation of new job opportunities, such as experts in AI development, data science, and ethics, and the development of new products and services in various sectors. I don't believe that AI will replace all professions, certainly those involving manufacturing, data entry, and customer service may be done more efficiently by AI." At Skedler, we fully supports his viewpoint. Moreover, he highlights the importance of automation in this ever-evolving landscape.
To wrap up, we asked Fran for advice for those transitioning from the traditional world to the cloud or anyone looking to make a significant career move. His advice is clear: "Never give up. I won't lie and say it will be easy because it won't be. So, be focused and create a short and medium-term plan for your career transition. Join many courses and bootcamps, perform hands-on home labs, and try to build your network with inspiring and knowledgeable people in the field."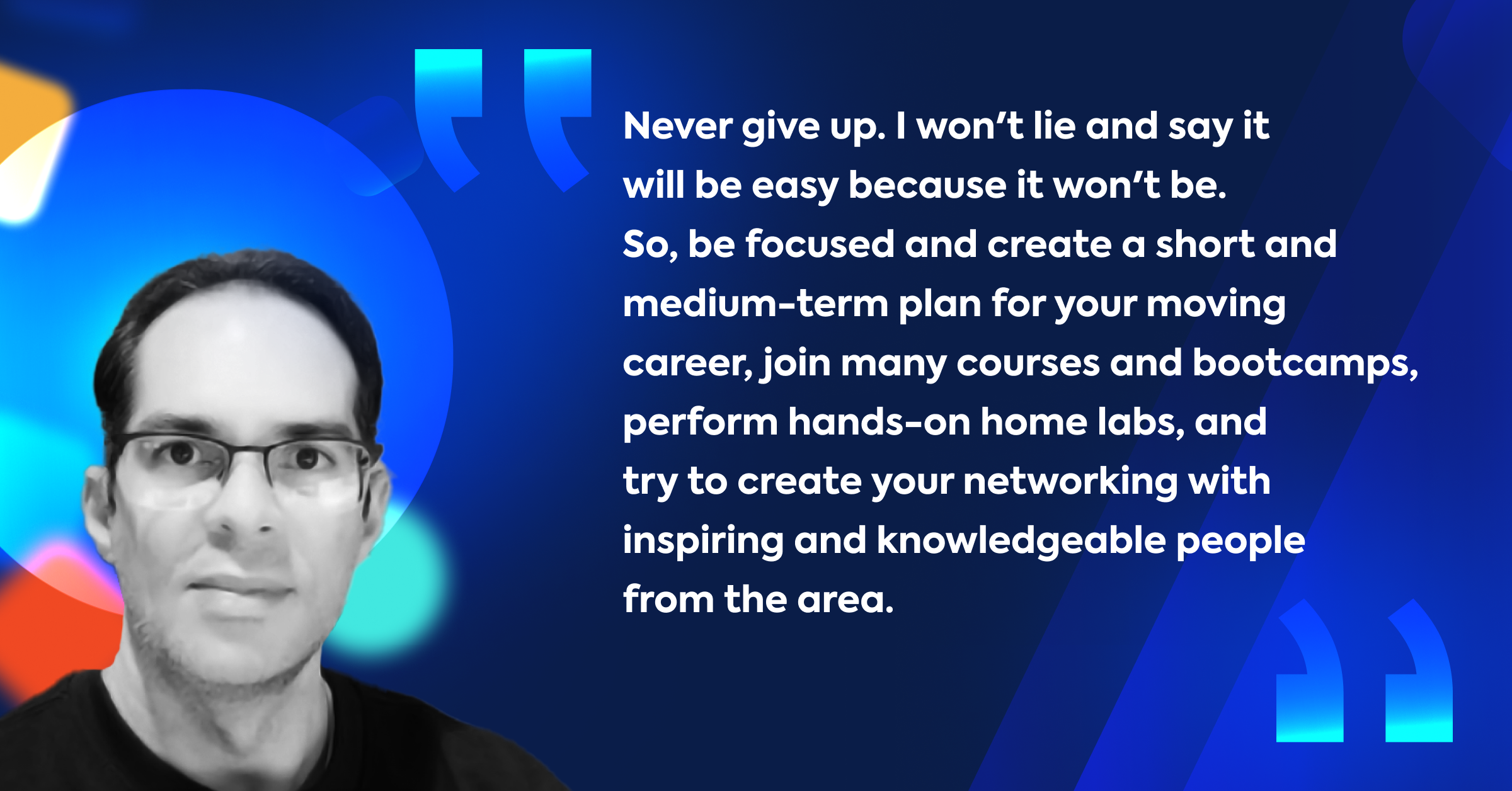 About Francisco Souza
Francisco Souza is a Brazilian IT expert currently residing in Portugal. With a career spanning over two decades, he has garnered extensive experience in the field of IT Infrastructure. His journey began with eight years dedicated to IT Broadcasting, where he held pivotal roles as an IT Analyst and SysAdmin.
In a notable career transition that occurred nearly two years ago, Fran embarked on a significant transformation. He transitioned into the role of a Cloud Engineer, specializing in Private Cloud Computing. This transition marked a turning point in his professional trajectory.
Today, Fran is engaged in Telco projects at Nokia. His career reflects his unwavering commitment to continuous professional growth, his capacity to embrace evolving technologies, and his dedication to excelling in the ever-changing IT landscape.
If you'd like to learn more about Francisco and his insights, his fascinating career, and his perspectives you can follow him on his Linkedin, check his website or consult his GitHub.  If you've enjoyed this Expert Series, please help us by sharing it on social media!