Improving Data Analysis and Decision-Making With Skedler
In today's world data is king, and almost every business relies on data analysis to make informed decisions. However, with the vast volume of data being generated, analyzing data can be a daunting and time-consuming task. This is where Skedler comes in. Skedler offers a powerful reporting solution that enables its users to create comprehensive & branded reports, visualize this data, and derive meaningful insights, ultimately improving the decision-making process by saving up to 5 hours each week.

In this blog, we will talk about how Skedler can help with improving data analysis and decision-making. Skedler offers several features that can greatly improve data analysis and decision-making. Let's explore three key ways in which Skedler can make a difference for you too.

Customization of Reports
Skedler allows users to customize their reports to suit their specific needs. With Skedler's drag-and-drop report builder, users can create comprehensive reports that contain the information they need to make informed decisions. Skedler also provides a variety of report templates to choose from, making it easier to get started and keep the consistency of your reports while scaling up and distributing them across multiple departments and end customers.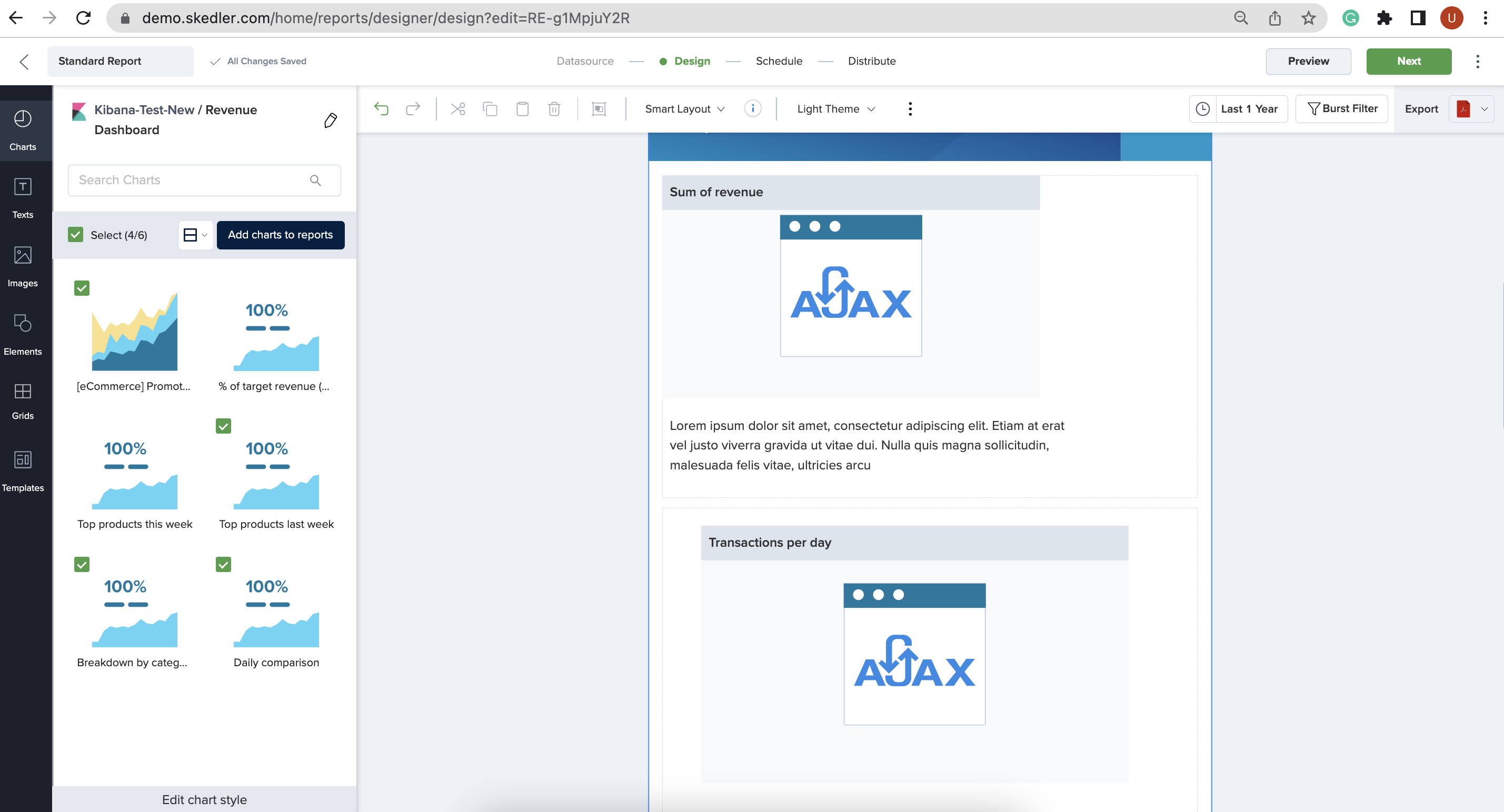 Real-time Reporting (Time Window and Scheduling)
Skedler provides real-time reporting, allowing businesses to monitor their data as it changes. Businesses can set up time windows to receive reports at specific intervals, ensuring they have the latest information available to them. Skedler also allows businesses to schedule reports, automating the reporting process and saving them time they invest in manual, repeatable and unproductive tasks.
Automated Report Delivery (Distribute Section and Delivery via Mail or Slack Channels)
Skedler reports can be automatically delivered to stakeholders, saving businesses time and ensuring reports are delivered on time. These reports can be delivered via email or Slack channels, ensuring stakeholders have access to the latest information without missing a deadline ever.

A Skedler Customer Success Story
We bring you a real-life example of how Skedler became a game changer for a team. At Enghouse Systems, they were able to improve their data-analysis and decision-making processes with the use of Skedler. 
By leveraging Skedler, Enghouse gained valuable insights into their business operations, identified performance trends, and made data-driven decisions that propelled their success. In the words of John Hirth, the program manager, "Skedler was a tremendous help because it was a very easy application to get up and running with Grafana and Kibana." 
We invite you to read the full case study. 
How to Get Started With Skedler
Skedler is developed with users in mind, so getting started is a straightforward process involving a few simple steps:
1. Visit the Skedler website and navigate to the download page 
2. Download and install Skedler Reports according to the provided instructions.
3. Once installed, follow the step-by-step guide to create and customize reports. Skedler offers comprehensive support documents that will help you make the most of the tool. 
4. For a visual demonstration of using Skedler Reports effectively, you can watch this tutorial video: Creating Your First Report
If you would like to know how to master Skedler, feel free to book a demo. Not only will we answer all your questions about how to use Skedler and take your data analysis to the next level. 
Conclusion: Why Trust Skedler? 
In conclusion, Skedler offers a comprehensive reports automation solution for improving data analysis and decision-making in businesses. With features such as report customization, real-time reporting, and automated delivery, Skedler empowers decision-makers to extract valuable insights from their data and make informed choices. By implementing Skedler reports, organizations can streamline their data analysis process, save time and resources, and ultimately drive better outcomes.

Embrace the power of Skedler reports today and unlock the potential of your data-driven decision-making.